Release Notes
Chmeetings 2022.31 – November 23, 2022
IMPROVEMENTS
Groups
When displaying Groups within the Member menu, you can now choose to display the members and leaders of that group. These features are available when the Member Directory is turned on and visibility is set to view members within the same group. 

When viewing the group, members can see the group name, leaders, members' list and related events. This Group page also has a new UI design.

Member Access
For published blog posts, you can now see a list of members who have liked it. 

Chmeetings 2022.30 – November 16, 2022
IMPROVEMENTS
Contributions
There is now a pre-built template for the

Canadian Donation Receipt. No matter when you signed up, you will be able to choose this from your list of templates. If you signed up after November 10, 2022, this is your default Contribution Statement Template.



There is a new

Birthdate/Age filter within the All Contributions screen. You can filter contributions and contributors by birthdate or age range.



You can also use the Chart view to see the age distribution graphically.
Member Access
Twitter has been added to the Social Media Card, within the Builder. The Card now also recognizes the icons of all supported social networks.

Users
The Users screen now has options to text and email people. Both are available for individual user records or under Bulk Actions. 

Notifications
Weekly reminders have been added for birthdays and anniversaries, along with the existing Daily and Monthly options. You can find this feature in Settings > Notification Settings

Chmeetings 2022.29 – November 10, 2022
IMPROVEMENTS
Events
There is a new option that lets you set the available number of tickets per event or per ticket type; (

Note: This is part of the Paid Events feature, and therefore is only available to paying ChMeetings users.

)

Registration options have been moved to a separate

Registration

tab, within the Event editing window. 

Recurring Events Report
This report now contains an Attendance filter for All, Attendees, or Absentees. In addition, there is a Bulk Actions menu, now available, so you can communicate with Attendees/Absentees to a certain event, add to groups, etc.

Contributions
There is a new menu item for

Statements

, under the main

Contributions

menu item. Here, you can print statements, as well as create and store Statement Templates;

Canadian Donation Receipts

can now be generated by users in Canada, to comply with local tax requirements. If you are an existing Canadian ChMeetings user, then you will keep using the previously existing templates (including any custom ones). This is because, before this release, there was no option to create additional statement templates and the new template would overwrite your existing one. To increase compliance, you can modify your default statement and add the

Unique Serial Number

variable to the template. New Canadian ChMeetings users will get the new template as default.

There is a new

Tax Deductible

filter under

Contributions > Funds.


Forms
Form submissions can now be collected anonymously. The feature is available per form, under Form Settings > Make form submissions anonymous. 

Follow-ups
It is now possible to add multiple responsible servants to the same follow-up. The option is available in the Add/Edit Follow-up window, where you will be able to select more than one person under the Responsible field.

Chmeetings 2022.28 – November 2, 2022
IMPROVEMENTS
Convert Contacts to People and People to Contacts
There is an option to convert Contacts to People and vice versa. It is available under Contributions > All Contributions > Contributors > Bulk Actions. This is useful when contacts become members; or when members no longer attend regularly, but you still want to keep their information available. When converting a member to a contact, their information is kept in the database, so if you decide to convert them back later on, their profiles will be fully restored.

Mobile App Notification Settings for Members
Members now have the option to quickly enable/disable ChMeetings notifications, from under Settings > Notification Settings.

Chmeetings 2022.27 – October 27, 2022
NEW
Elections
This release addresses the Dioceses using ChMeetings and brings the possibility to organize Elections. The feature is disabled by default, but can be enabled from under Settings > Account Settings. Once enabled, it is available under Member Access > Elections. 
There are 5 Election stages: 
NOMINATION: Members above 18 years can nominate, candidates must be above 21.

VET NOMINEES: After nomination, the candidate will receive a notification to confirm their willingness to serve on the Board.

DISPLAY NOMINEES: Admins are assigned to churches so each admin can view the displayed candidates and prepare for the elections.

ELECTION DAY: Members older than 18 years will be asked to vote.

ELECTION RESULT: The day when the new board members are announced.
Admins have access to creating and managing elections and add an Election Committee. The Election Committee can see election results and communicate with nominees. Members have access to nomination, voting and results.
This feature is based on US election bylaws.
Chmeetings 2022.26 – October 25, 2022
IMPROVEMENTS
Add Contributions from Contacts (Non-Members) (paid feature)
Contributions can now be added from non-member Contacts. This is useful when your donors are organizations or individuals who are not members of your church and don't want/need to be (e.g.: visitors, event guests, etc.). When receiving a new contribution, from someone who is not listed within your ChMeetings database, you can add them either as a member or as a contact.

Contacts are listed in a dedicated Contributors section of your Contributions area, from where you can text or email them, convert them to members or filter and export the list. The main list under All Contributions can also be filtered by contribution type: All, People, Contacts or Anonymous.

End of Year Statements can be generated for both members (People) and Contacts. Printed Statements can now be sorted by First Name, Last Name or Envelope Number.

Blog Categories
You can now add Categories to your blog, including add multiple categories to the same article. Both admins and members have the option to filter blog articles by Category.

Center Text on Builder Cards
Within your Member/Guest View Builder (Member Access > Builder), the text can be centered for the following cards: Linked Card, Video Card, Audio Card, Form Card, Upcoming Event Card, Article Card, Page Card.
Choose WhatsApp Instance
When communicating with people on WhatsApp, via the ChMeetings mobile app, you can now choose which instance of WhatsApp to use. This is useful when you have WhatsApp business installed separately from the standard app.

Chmeetings 2022.25 – October 14, 2022
IMPROVEMENTS
Groups:
Add Group Photo: When creating or editing a Group, you can now add a photo which will be displayed across ChMeetings, wherever the Group is visible.



Show Groups in the Member Menu: When creating or editing a group, you can now choose whether it should display within your Members' menu. If you enable this option for at least one group then a dedicated Groups section will be available within the main menu of the Member View, for those who are part of that specific group.



Advanced Search in the Group Details Page: When viewing a group, you can now use an advanced search to look up the members within it based on a variety of criteria


Event Payment by Check
If someone pays for an event by check, you can now add the check number to ChMeetings. The option is available for your event under People & Tickets > Registration Details > Edit Payment.

View & Close Contribution Batches
When adding a new contribution, there are two new options available starting with this release:
View Batch

: This takes you to the Batch detail page, where you can see all contributions recorded as part of the current batch.

Close Batch & Create New

: This option closes the current batch and creates a new one. The next contribution you add will thus be part of the new batch. E.g.: if you are on

Batch 4

and close it,

Batch 5

will be started.

Diocese Account Features: 
Change Home Church: If you are using a Diocese account, you can now change someone's Home Church from within their profile, and add a reason for the change.


Home Church History

: As soon as a member's Home Church changes, you can access the history of these changes, which includes the change date, who made it, which were the initial and new home church, as well as what was the reason for the change.




This history is also available as a Home Church Log Report, which you can find under

Reports > Log Reports.


Chmeetings 2022.24 – September 28, 2022
IMPROVEMENTS
Restore deleted people in bulk
The Deleted People Log Report has been enhanced with an option to restore multiple people in bulk. The option is available by selecting the people you want to restore, then clicking Bulk Actions > Restore. 

Remove people before importing
The Import People Tool now allows you to remove people in bulk, before you import. This is particularly useful for removing people you identify as already existing in your database, thus preventing duplicates.

Support for check-in by concurrent users
The check in page will refresh automatically with the people checked-in by other users. Servants no longer need to refresh the page to see the check-ins performed by colleagues.
Get person details via API
The ChMeetings API now allows developers to get profile details, using the person ID, for a specific member.
Chmeetings 2022.23 – September 22, 2022
IMPROVEMENTS
Printed and Online Directory Improvements
There is now an option to choose the Birthday format in the online directory with an option to hide the Year. You can find it in Member Access > Settings > member role Settings or Users & Roles > Roles & Permissions > Edit Member Role.

The option is also available when printing the Member Directory.
In the Print Member Directory dialog, you can also choose the family name format, when you group by family. 

Improved Chinese Translation
Following our last release, we have further improved the Chinese translation.
API Improvements
There is a new API available for Listing the Groups and the People inside Groups.
Chmeetings 2022.22 – September 14, 2022
IMPROVEMENTS
Hide the 'Like' button for blog posts
There is now an option to show or hide the 'Like' button on a blog post. A toggle is now available on the blog post editor, which you can simply turn on and off.

'Native Name' form field
If you enabled Native Name within your Account Settings, you can now also add the Native Name field to any forms you create. You can find the option under the Profile Fields tab within your forms.

Improved Chinese Translation
In this release, we have also made enhancements to the Chinese version of ChMeetings. 
Chmeetings 2022.21 – September 7, 2022
IMPROVEMENTS
Soundcloud support in the Audio Card
The Audio Card in your Member / Guest View Builder now also supports links from Soundcloud.
Vimeo Support in the Video Card
When adding a Video Card to your Member / Guest View using the Builder, you can now choose Vimeo and use the Vimeo Video ID to add videos.

Clear All Notifications
Now there is a quick option to clear all of your notifications in one go. Find the Clear All button at the top right of your Notifications area.


Visual cue for the number of unread notification
You can now see, at a glance, how many unread notifications you have, right next to your Notifications option in the main menu. Once you click to enter the section, the number is cleared.

Chmeetings 2022.20 – August 31, 2022
NEW
Child Check In (paid feature)
This release comes with a set of features that allow you to check children in for events, along with their parents and family members. This feature includes three components: 
Enable Checkout to log checkout time.

Check In by Family to check in multiple family members in one go.

Print name tag for child and parents.

You can now enable Check Out when configuring an event. Once a member has checked in, the Check In screen will provide a Check Out button. The Check Out time will be displayed on the Check In screen, along with the Check In time. 

This option allows you to check in multiple family members in one go. The Check In screen provides a list of all family members associated with a person and lets you select who to check in, without having to search for them again. 

Print Name Tag for Child and Parents (Beta)
By enabling this feature, you will be able to print a name tag for parents and their children during check-in. The print job will open once the parent/child is checked in. One card is printed for the parent and one for the child. Both cards contain an identical code, which the parent needs to present in order to pick up their child or leave the event with their child. Additionally, by enabling the Include Custom Fields option, you can add whatever information you need on the child's name tag; for example their allergies. See our help guide on custom profile fields for details.

New 'All' Tab on the Check In Screen
The Check In screen now contains an 'All' tab, where you can see a list of all people relevant for the event. This makes the check-in process easier, because you do not have to switch between the Absent and Attended tabs to find someone you need. You can still use these tabs to identify absentees and attendees. 

Chmeetings 2022.19 – August 23, 2022
NEW
Transfer People (paid feature)
The Transfer People feature lets you move members from one Ministry or Group to another, via a semi-automated transfer. All you need to do is select the Source and Destination to set up the transfer, then run it whenever you want to move people from one to the other. 
This is also particularly helpful if you run a Sunday School, because it allows you to make the necessary Ministry and Group movements when members promote school grades (for example from Elementary Sunday School Ministry > Grade 5 Group to Middle Sunday School Ministry > Grade 6 Group). You can keep your transfer and run it again next year, when a new generation promotes grades.
You can find it by going to Settings > Tools > Transfer People.
The demo below shows you how to use this feature:

Chmeetings 2022.18 – August 17, 2022
IMPROVEMENTS
Volunteers Management Permission for Group Leaders
Group Leaders can now be granted permission to manage volunteers as part of the events you organize. You can find this feature by going to Users & Roles > Roles & Permissions > Group Leader > Events. 

Additional Options for Printing the Member Directory
When printing your member directory, you can now choose to hide the default photo, which will not add a photo placeholder to the print if a member does not have a profile picture. You can also now set the print layout to Landscape Mode.

Add Contributions via API
We have recently enabled the API to fetch contributions from within ChMeetings. You can now also add contributions to ChMeetings from within an external application. This makes it easier for you to integrate your account with online giving platforms. 
You can find your API Key under Settings > Integrations.  
Chmeetings 2022.17 – August 10, 2022
IMPROVEMENTS
Blog improvements
We have made several improvements to the blog; 
You can now notify registered members when publishing a post to your blog. 

Members can now like and comment on your posts.



New 'Upcoming Events' card in the Builder
The Builder now allows you to add a card that shows Upcoming Events.You can choose for how many days to display events, as well as the Calendar to pull them from. This card provides the same functionality as the equivalent dashboard widget.

Custom Payment Accounts for Events
If you need event payments to go to a different account than the one you integrated for e.g. Online Giving, then you can now configure a custom account for every event. In this release, we support custom PayPal accounts, for which you need to know the associated email in order to integrate it.

Additional Contribution Search Tools
Under Contributions > All Contributions, you can now choose to search for contributions associated with People, or for Anonymous ones. There is also a filter by Amount, where you can choose the range to filter for.

Chmeetings 2022.16 – July 20, 2022
NEW
Event Managers
When creating an event, it is now possible to assign a manager to it. The person assigned as such will have access to event related activities, such as event editing, registration, cancellations, checkin, volunteers, etc. However, they will not have access to the rest of your database. Managers can be added from within the Add/Edit Event section, by enabling the Managers section. To assign someone as a manager, they need to have a ChMeetings account under any role (Member, Leader, etc.)
This feature is only available to paid accounts.

Conditional Fields
When creating custom profile fields or forms, you can now add conditional fields, which only display when a specific answer is selected for another field. By selecting the Show only if option, you will be able to select which criteria the field should fulfill in order to display. In Forms, conditional fields can be made mandatory or hidden (so they don't display to members but are still stored in the form.
This feature is only available to paid accounts.

IMPROVEMENTS
Guest / Member View Builder Improvements
The Builder has received three improvements:
1. The Builder has been assigned its own spot in the menu. You can now find it under Member Access > Builder. 

2. The Video Card now supports several video types. You can use the Type option, to set whether the video comes from YouTube or Other sources (e.g.: Vimeo, DailyMotion or direct link to MP4 videos).

3. New Audio Card: This allows you to add an audio file to your page, which viewers can play.

Permission for Group Leaders to Add/Edit Events
You can now allow users with a Group Leader role to be able to add or edit events for their own group. This option is available under Users & Roles > Roles & Permissions.

Chmeetings 2022.15 – July 8, 2022
NEW
Event Location
When creating or editing events, you can now add the physical location of the venue, either by simply entering it or by using a Google map. This is a paid feature.

Italian Language
ChMeetings is now available in Italian (Beta). Check it out by going to Settings > Change Language. 

IMPROVEMENTS
Member UI enhancements for multi-day events
When members log into their ChMeetings accounts and view a multi-day event, they can now see the start date/time and end date/time much more easily, in an improved interface. 

Field sorting options
When creating custom profile fields or forms, you can now sort multiple choice, checkbox and dropdown fields in either ascending or descending order. 

Chmeetings 2022.14 – June 27, 2022
NEW
Baptism dashboard widget
There is a new Baptism dashboard widget which can be set to "This Month" or "This Year". It is hidden by default, but you can add it manually from Dashboard > Manage Widgets.

API support for contributions
The ChMeetings API now allows you to connect external applications to your ChMeetings account for the purpose of fetching contribution related data. This can be particularly useful if you want to use this information with bookkeeping applications. You can find the API by going to Settings > integrations. 

Viber Support
You can now easily contact people on Viber, using the option on their profile: Simply click the Viber button under the person's profile picture to send their number to the Viber app. This option is most useful when you are in the ChMeetings mobile app. 

Chmeetings 2022.13 – June 23, 2022
IMPROVEMENTS
Volunteer Schedule Updates
The recently released Volunteer Schedule feature has been improved significantly, with the following added options:
       1. Ability to email volunteers – Once you have assigned volunteers to your event, you can easily send them emails from within the Volunteers area of your event. You can choose whether to email all volunteers or only specific ones.
      2. Ability to send volunteers their schedule via email – Each person is assigned to a specific role, on a specific date and time. It's now easy to send everyone their schedule to make sure they're there when your event happens. You can choose to send the schedule for one or multiple roles and event occurrences.

       3. RSVP in volunteer emails – When you send your volunteers an email, including schedule or reminder emails, you can choose to allow them to RSVP, right from within the email. They can easily approve or reject participation, simply by clicking a button.


       4. RSVP Status in the Volunteers tab – You can now see the RSVP Status for each volunteer: 
Green

: Approved, 

Yellow

: No Response, 

Red

: Rejected.

        5. Volunteering schedule for members: Registered members can now see their volunteer schedule, including assigned roles, dates and RSVP options to approve or reject participation.



Updated WYSIWYG Editor
The WYSIWYG Editor has been updated with an improved version. This means that you will have a better experience editing emails, blog posts, descriptions, etc, including when adding images or pasting from other text editors such as Microsoft Word. 


Filter by Group Name in the Birthday and Anniversary Reports
When running the Birthday or Anniversary Reports, you can now filter them by the name of the Group that people are part of.


Chmeetings 2022.12 – June 8, 2022
IMPROVEMENTS
Enhanced Map Feature
The Map feature, with Google Maps support, has been added to the Profile details of each member. Here is where the person's map location can be updated by searching via Google Maps, dragging the pin or using the Current Location option to locate the member via GPS. For now, the GPS option is only available within the web app and will soon be added to the Android and iOS apps. Note that updating the map location does not update the person's address because their location and the address they registered with your church can be different. The demo below shows you what the feature looks like.

Page and Description Cards in the Member / Guest View Builder
The Member / Guest View Builder now allows you to add a Page Card, to which you can add subsequent cards, organized under that specific page. The page card works exactly like the other cards you might already know, but it allows you to manage its content and add cards within it. The demo below shows you how it works. 

In addition, you can now also add a Description card, which provides a WYSIWYG and HTML editor where you can format text to display on any page of your church URL Member / Guest View.

QR Code Reader Integration
You can now scan QR codes using a dedicated reader and ChMeetings will pick up the corresponding people during event check-in. All you need to do is to connect your reader to a PC/Mac, then click on the QR code reader icon at the top right of the check-in page to start taking attendance.
As a reminder, you can get member QR codes from their profiles or by exporting people as QR Code or QR Card. Members can also get their own QR code from their ChMeetings profile.


Diocese Support for Different Countries
Large Dioceses can now add and manage churches in different countries, so that the address and map features will operate based on the country. This allows choosing a country for the main Diocese account, as well as for each church. In addition, member profiles contain a Country field, and online giving uses local currency.
Chmeetings 2022.11 – May 17, 2022
IMPROVEMENTS
Add a Video Card to the Guest / Member View
Members who authenticate into their ChMeetings account, or guests who visit your church URL can now watch a video. You can add it on a card, using the Guest / Member View Builder.

Follow-ups calendar iCal feed
The Share Calendar options now include a link to the Follow Ups Calendar for each user, within the iCal feed. This allows with Google Calendar or mobile devices.

Mapping and new filters for the Households Report
The Households Report can now be filtered by family member name, age interval and city. Households can also now be viewed on a map.

Chmeetings 2022.10 – May 10, 2022
NEW
Event Donations
You can now collect donations when organizing events. When setting up an event, you can now choose to Enable Donations, from within the Registration section. You can add a name for your donation section, choose a suggested amount and select the fund to which it should be assigned. This is a paid feature.

When your members register for the event, they will also have the option to support your church with a donation.

IMPROVEMENTS
Edit or Cancel Recurring Online Giving
Members can now edit the amount they donate through online giving, or cancel the transactions altogether. This is a paid feature that is currently only applicable to churches integrating Stripe as a payment method.

Chmeetings 2022.9 – April 27, 2022
IMPROVEMENTS
Volunteer Reminder
The Volunteer Scheduling feature has been enhanced with a reminder that you can send to your event volunteers. 
Reminders can be configured per role. You can decide how many days in advance to send the reminder, and whether you do so via email and/or push notification. The message text and formatting are customizable and merge fields are available. You can also decide whether to apply the reminder to the selected role or to all roles.  
Here is a quick demo of this feature:

Chmeetings 2022.8 – April 19, 2022
IMPROVEMENTS
Schedule push notifications
You can now manage push notifications significantly more efficiently by scheduling them. This option is available everywhere notifications can be sent. Simply click the Calendar button to enable the date and time selection fields.

Get notified about anniversaries
Your Notification Settings now allow you to enable notifications for anniversaries as well. You can choose whether to be notified on a daily or monthly basis. If monthly, you can choose the day of the month when the notification should be sent.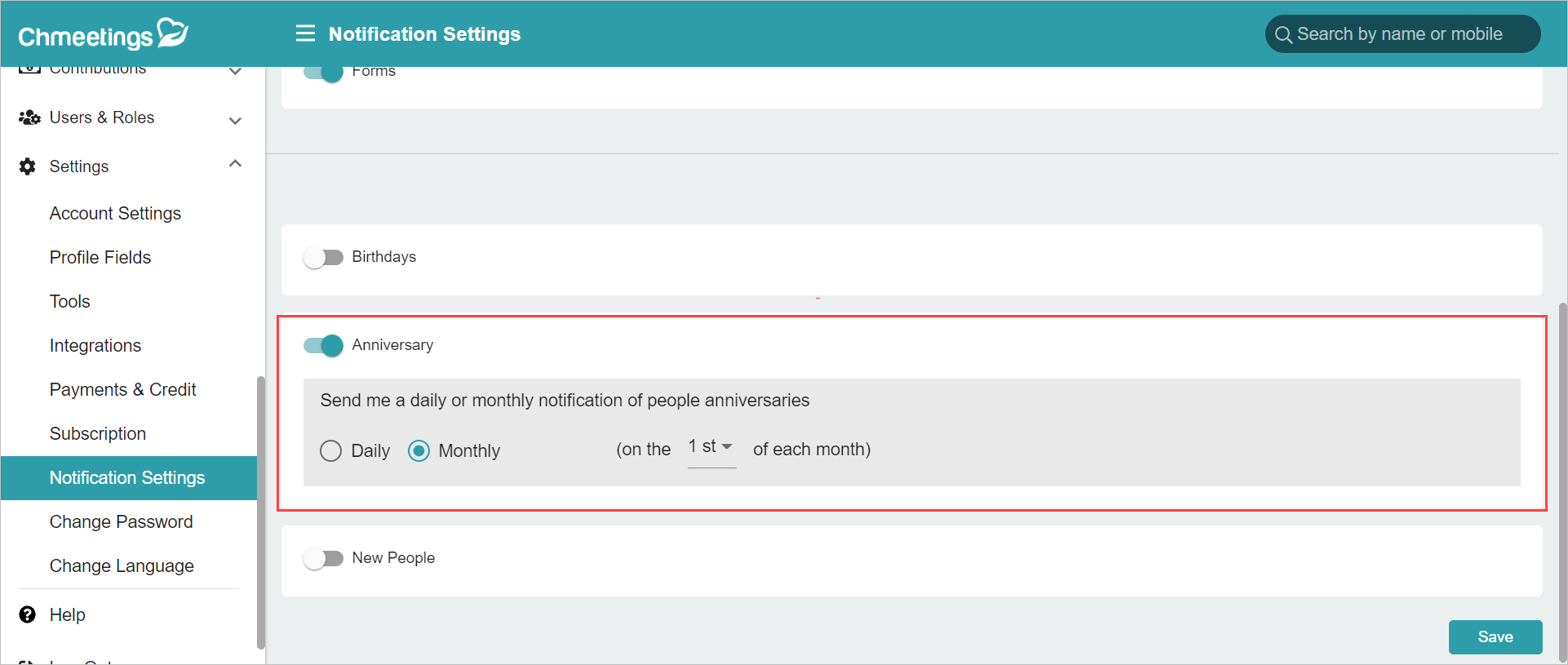 Select email sender
If you set a Sender Name and Reply To address under Settings > Account Settings > Email Settings, then this configuration is considered as default whenever you send an email. After this update, this is no longer the only option. When you send an email, you can now choose between the default email address and the one corresponding to the person who sends the email.

Birth Date and anniversary are available to export with the Member Directory
When you want to export the Member Directory, you can now choose to add the Birth Dates and Anniversaries of your exported members. 

Chmeetings 2022.7 – March 29, 2022
NEW
Map People
You can now easily use a map to see where your members are located.. This feature is available in the People module, under the Bulk actions menu.
This feature is only available for paid accounts.

IMPROVEMENTS
Self Check-in using a QR code
Members can now also use a QR code to check in by themselves when attending your events. 
You can easily enable this option from within the event editing page. Just make sure you enable self check-in, then enable Self Check-in using QR code..

Your QR code can be easily retrieved from within the event's menu, under the Check In QR code option.

When self check-in is enabled for an event, members will see a button next to it, within their list of upcoming events. This button will allow them to check in for the event, once it starts. 

Save members' credit cards
When making a payment, members can now save their credit cards and use them later for new payments. This feature is available for both paid events and online giving.

Chmeetings 2022.6 – March 17, 2022
NEW
Volunteer Scheduling / Rota – Initial Release (Beta)
You can now schedule volunteers for your events – both one-time and recurring (for recurring events, the feature is also available per instance).
All you need to do to set up this feature for your event is to first configure the roles that volunteers need to fulfill, then simply assign volunteers per role, per day.
It is also very easy to export and print volunteer sheets per day and role.
This feature is only available for paid accounts.
This is an initial, beta release that will receive many updates in the future. We encourage you to provide feedback by accessing our help request form.

Chmeetings 2022.5 – March 9, 2022
NEW
Blog Feature
You can now easily create a church blog within ChMeetings
From now on, your Member Access feature, within the Admin area, will have two sections: Settings and Blog. In the Blog section, you will have the option to create articles and edit them using either a visual editor or HTML code. Articles can be saved as drafts, previewed and published. There are search filters by title, creation dates and status (all, draft or published).
Your members will also see a Blog section, within the main menu. When accessing it, they will be able to read the articles that you have already published. For now, your content will only be accessible to registered members, who have a ChMeetings account.
The blog is only available to paid members.
Here is a quick tour of this feature.

Chmeetings 2022.4 – March 1st, 2022
NEW
Online giving via ACH / Direct transfer
You can now collect online donations via ACH, if your church is based in the USA and if you are using Stripe as a payment processor. Anyone who would like to donate can simply fill out their bank details on your donation page. You can ask donors to cover ACH fees as well. 
ACH and credit card details are now being saved within ChMeetings, for members with access to an account.

Chmeetings 2022.3 – February 1st, 2022
IMPROVEMENTS
Embeddable donations page
Your donations page can now be embedded into your website by simply copying some code and pasting it where appropriate. 

Payment status & fee data for online giving
Your Contributions > Online Giving area now displays a payment status, to let you know whether a payment is cleared or still pending. Pending payments will typically be ACH, which can take up to 7 days to clear. This area now also contains a column dedicated to fees corresponding to each payment, so you can easily see and report on this expense. 

Member photos in the Contributions module
You can now see the photo of each donating member, next to their name, on their donation transactions – no matter their payment method, including online giving.

Chmeetings 2022.2 – January 17, 2022
IMPROVEMENTS
Add donating guests as members
Guests who have made an online donation without logging in are now displayed with their full name, along with an option to add them to your list of members and create a profile for them. 

Send emails and text messages to the guests of an event
Previously, only members would receive your event-related communications. Guests are now included as well
Chmeetings 2022.1 – January 13, 2022
IMPROVEMENTS
Partial event payments
When configuring a paid event, you can now choose to allow members to only pay a portion of the cost. You can do this from the event editing window, by enabling "Partial Payment" and adding a minimum amount to pay upon registration for the event. Members can pay the remaining amounts later, either in cash or online, via their event registration within their member account. Everytime a member pays online, they will be restricted to paying the minimum amount you set, unless it is their last instalment. 

Receive emails when members submit forms
You can now choose to receive an email when someone submits a form. The setting is available under the Form Settings section of each individual form.

Improvements to contributions
The "All Contributions" list can now be sorted by any column and there's a show/hide column feature.
Older Releases